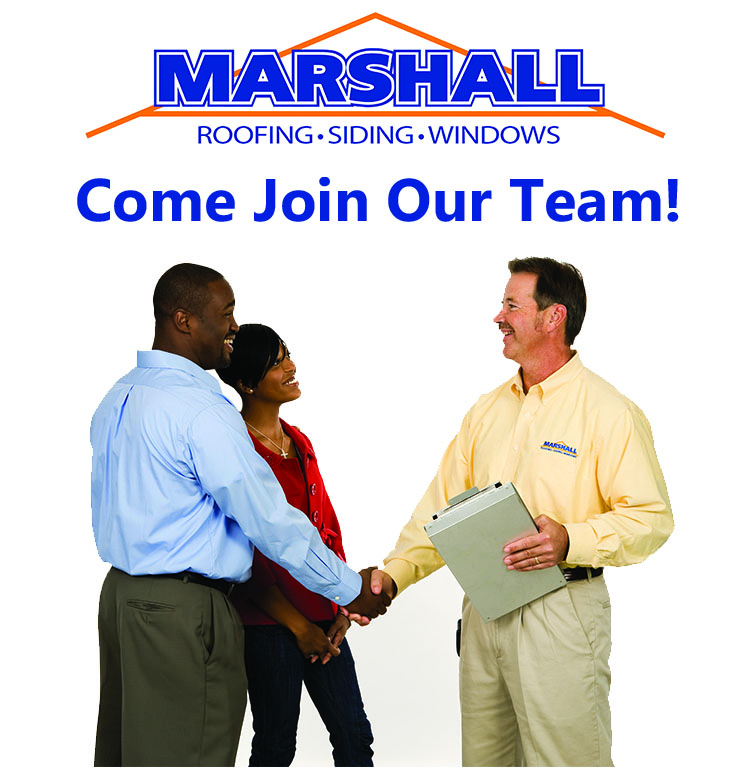 Service Manager
Who we are:
Marshall Roofing, Siding & Windows has been servicing VA & MD customers for 40 years and continue to grow each year.  We are a top roofing, siding, windows, doors, and gutters company located in Lorton, VA.  We are also one of the few roofing companies that offer roof repair services and light carpentry work.  We take pride in providing the highest level of customer service and thrive to give 100% homeowner satisfaction consistently.  We are an A+ rated company with BBB, Angie's List, Washington Consumers' Check Book.  We offer competitive pay, 2 weeks' vacation, medical/dental benefits, 401K plans, and monthly bonus incentives. 
What we are looking for:
Marshall Roofing, Siding & Windows is looking for a self-motivated, committed, passionate leader to manage our busy Service Department.  If you have a "get it done" attitude and have the drive to find a solution to every problem, you may be the one that we are looking for.  We want someone who builds trust, values others, fosters innovations, focuses on the customer, collaborates with others, and solves problems creatively.  We need a person who leads division growth, sets division's tone and culture. 
Expectations:
Office Hours: Monday-Friday 7-4pm
Must be available to answer calls after work hours and weekends
50-60 hours per week during busy season
Associates or Bachelor's Degree required
Minimum 3 years of proven experience (Construction or Roofing experience)
Reports to work on time and notifies supervisor of time needed 30 days in advance
Ability to meet deadlines
Great time management and problem-solving skills
Must have exquisite attention to detail and organizational skills
Must have the passion to assist people with genuine interest and concern
Must possess the ability to communicate positively and clearly with staff and customers
Must possess the ability to multi-task and type at least 50 words per minute
Proficient in MS Office (Outlook, Excel, Word) and QuickBooks
Performs other duties as assigned
Management Functions:
Manages and leads Service Division towards success
Manages Service techs' time/attendance
Conducts weekly service meetings and monthly safety meetings with staff
Create policies/procedures and systems to track customer satisfaction and monthly reports to track job profitability
Identifies and resolves issues promptly
Ensures Service Division's schedule is followed daily and properly scheduled
Communicates with customers and staff of schedule changes/delays
Review/inputs proposals in MarketSharp software and sends to customer
Orders job materials needed for repairs
Responsible for Service Division's Accounts Receivables
Ensures all invoices/payments are accurately entered into QuickBooks and sent to customer after job completion
Human Resources Functions:
Recruits/hires service techs/administrative staff
Conducts background checks
Processes on-boarding paperwork
Compiles and audits weekly payroll
Tracks monthly bonuses
Administrative Functions:
Schedules repair jobs and warranty calls
Enters prospects, leads and customer's information accurately into MarketSharp software
Assists in answering phones calls and scheduling estimates
Email your resume to rodalyn@marshallroofing.com