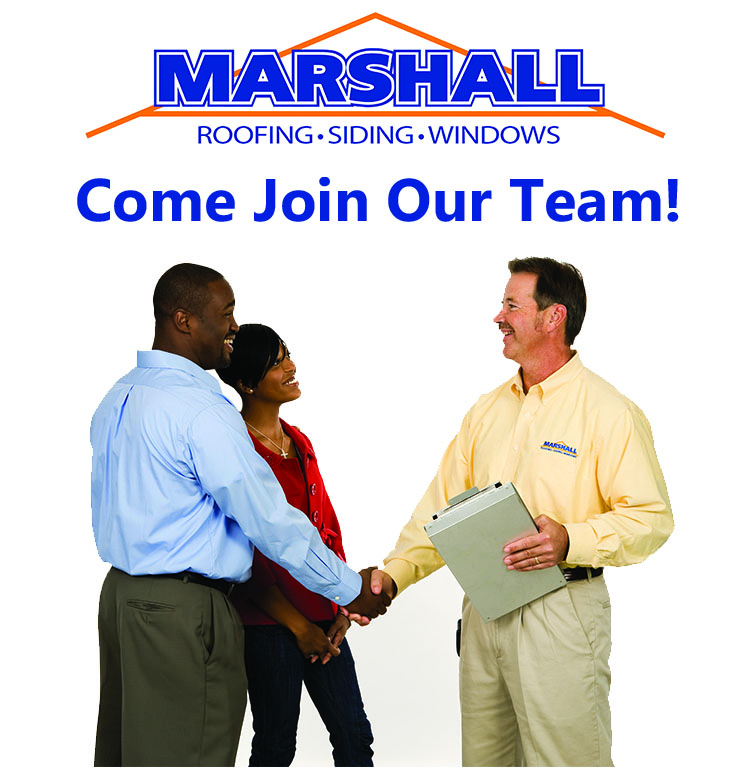 Lead Carpenter/Window Installer
We are looking to add another carpenter with experience as a window installer to our team. This carpenter would be based out of our Manassas or Lorton Office depending on where they live. We work all over Northern Virginia and Maryland. Company vehicle will be provided. Marshall Roofing is a smoke free company. Smoking on job sites or during work hours is prohibited.
Under the direction of the Service Manager the Lead Carpenter is responsible for identifying and creating scope of work to fix and repair minor roofing & remodeling issues (including siding & windows).
KNOWLEDGE, SKILLS, AND ABILITIES:
• High School Diploma or GED equivalent required.
• Minimum 5 years in the construction industry.
• Must have demonstrated skills in carpentry and/or roofing.
• Must have a valid Driver's License.
• Must have the ability to do minor drywall repairs, framing, minor roofing repairs and interior repairs.
• Must have the ability to learn, understand and apply new technology.
• Must possess the ability to communicate positively and clearly with supervisor, staff and customers.
ESSENTIAL FUNCTIONS:
• Follows daily schedule.
• Reports out job and material costs daily.
• Reports any customer concerns to Service Manager.
• Follows all safety and security standards and procedures out in the field.
• Accurately identifies issue, creates scope of work and provides that solution to the homeowner.
• Creates accurate estimates and ensures customer receives the completed estimate no more than 24 hours later.
• Reports to work on time and notifies supervisor of time needed 30 days in advance.
• Attends all scheduled staff meetings.
• Performs other duties as assigned.
WORKING CONDITIONS:
Must have the ability to bend and lift up to 50lbs. Must be able to stand for long periods of time; Will have exposure to loud outside sounds and exposure to hot, humid, cold and sometimes rainy weather; some physical exertion that includes climbing.
Please email your resume to rodalyn@marshallroofing.com.